Comfort for Kids Dealing with Divorce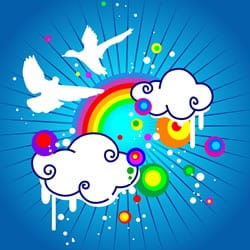 God puts rainbows in the clouds so that each of us—in the dreariest and most dreaded moments—can see a possibility of hope.
–Maya Angelou
How does divorce look from a child's point of view? Even if life has not been rosy at home for some time, children may be very afraid of what the end of their parents' marriage will mean for them.
When parents split apart, so does a child's world. In divorce, children suffer many losses: one parent has moved out, they may have to move to a different home and lose familiar surroundings, friendships may change, and money may be tight. In divorce, children face their own shock and grief as well as the hurt and anger their parents may be struggling to control.
In these difficult circumstances, kids need to know that there's a new and positive future ahead for everyone. Family law attorney, Susan S. Coats, calls on divorcing parents to focus on the positive when she says, "Something is ending, yes, but at the same time you are starting something new. For your child's sake, you need to work as hard as you can to create two new families, and it will take both parents to make sure that the new families flourish."
To restore a child's sense of security and safety, they need reassurance that they will be okay and so will their parents. Here are some healing steps you can take:
Reassure Your Kids
Children need to know that they are not to blame for the divorce or any of the difficulties between their parents. Let your kids know they are loved no matter what. They may fear they will be abandoned. After all, one parent did leave the other. Let them know that won't happen to them. Let them ask the questions they need to ask. Your calm and loving demeanor will reassure them that some things have not changed.
Restore Their Stable Routine
Kids have a lot going on inside and their world is all about them much of the time. The sooner you can restore a routine they can count on, the better. When they know where they'll be doing their homework, they can focus on their homework. Try to keep what you can of their world intact or establish a new milieu for them as soon as you can.
Revive Their Hope for Future Happiness
When parents manage to establish a peaceful and cooperative relationship after divorce, kids can learn to expect happiness, fun, and comfort once again. It may not be the family they once had, but it might provide for them very well. Parents who manage to heal themselves and adjust to divorce can be role models of resilience and recovery for their kids. Your attitude determines your child's attitude. They count on you to keep their world safe, secure, and filled with promise.