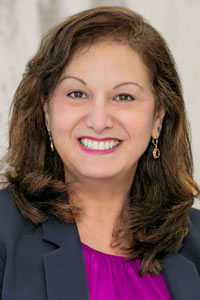 As a Financial Advisor with Evershore Financial Group, I have been in the financial services industry with my Certified Financial Planner designation since 1992. Earning an MBA in Finance from Nova Southeastern University gave me new industry perspectives. I also attained the Certified Divorce Financial Analyst designation, adding to my expertise in working with clients going through the divorce process.  Before entering the financial services industry, I debuted in my working life as a registered nurse. Helping people live their best life is what I'm all about.
I've had the privilege to speak to many groups about financial topics and financial literacy.  I am delighted to bring the Second Saturday program to my community to specifically reach out to people going through tough times in their lives.  It is so important to get information that helps you understand all the choices available to you so educated decision making is possible.
When I'm not working, you'll find me spending time in my garden reading a good book, watching football, out big game fishing, and visiting my grown children.
Please Visit My Directory Listing
Susan Weinblatt is a Registered Representative and Investment Advisor Representative of Securian Financial Services, Inc. Susan has purchased a license and has been selected by Second Saturday to run the Second Saturday ZCTA Workshops. Evershore Financial Group offers securities and investment advisory services through Securian Financial Services, Inc.  member FINRA/SIPC.  Evershore Financial Group is independently owned and operated. 3300 PGA Blvd., #990, Palm Beach Garden, FL 33410. Financial Advisors do not provide specific tax/legal advice and this information should not be considered as such.  You should always consult your tax/legal advisor regarding your own specific tax/legal situation. Neither Securian Financial Services, Inc. or Evershore Financial Group are affiliated with Second Saturday.  Securian Financial Services, Inc. does not endorse Second Saturday. Dofu 8.2021  3729267