Support. Information. Hope.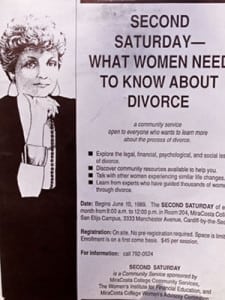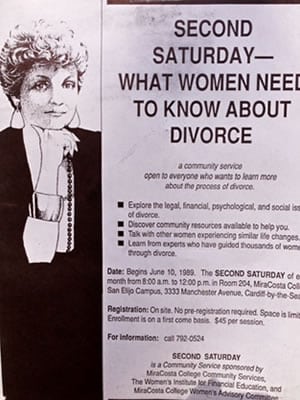 Welcome to Second Saturday: What Everyone Needs to Know About Divorce, the critically acclaimed workshop and community founded in 1989 by nationally renowned advocates/wealth managers Candace Bahr and Ginita Wall.
Second Saturday offers non-biased financial, emotional and legal advice from qualified local professionals, providing people with the knowledge, support, resources and trust that they need to survive the divorce process and move forward with confidence toward a new life. The flagship San Diego workshop has helped over ten thousand people while raising over $400,000 for the San Diego community in the form of scholarships and educational programs.
Building on that success in San Diego, Second Saturday Divorce Workshops are now in locations around the country, helping to empower even more individuals and families. This greatly needed program expansion was made possible through a generous donation by Karen Camp, an extraordinary woman whose personal divorce journey fueled her desire to help others better navigate the process with less pain and stress.
Second Saturday was created by the non-profit Women's Institute for Financial Education (WIFE.org), the nation's longest-running non-profit devoted to female financial literacy, whose co-founders Candace Bahr and Ginita Wall are true champions for women in their quest for financial knowledge.
Thank you to Karen for making this all possible!
Click here if you are a professional interested in starting an in-person workshop in your community.