Local Heroes: WIFE Co-Founders Honored by Union Bank and KPBS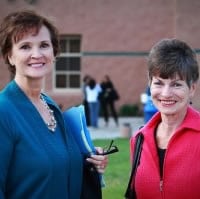 As part of its ongoing commitment to cultural diversity and responsible banking, and in celebration of Women's History Month, Union Bank, N.A., has partnered with KPBS to honor three extraordinary San Diegans for the 2013 Local Heroes program. The 2013 Women History Month honorees are: Candace Bahr and Ginita Wall and Amina Sheik Mohamed.
As part of the program, which is designed to pay tribute to exemplary members of the community who are making a difference and enriching the lives of others by improving their workplace, community, region and the world, honorees were recently identified during Black History Month (February) and will also be identified during Jewish American Heritage Month (April/May); Asian Pacific American Heritage Month (May); Lesbian, Gay, Bisexual, Transgender Pride Month (June); Hispanic Heritage Month (September/October); Disability Awareness Month (October); and Native American Heritage Month (November). Honorees will be formally recognized during celebration dinners, which Union Bank sponsors with KPBS.
"Union Bank is proud to partner with KPBS to celebrate these individuals as part of the 2013 Local Heroes," said Union Bank Senior Executive Vice President Pierre P. Habis, head of Community Banking. "We are delighted to recognize the achievements of these outstanding women who have greatly enriched the San Diego community with their tireless commitment."
"KPBS has had the pleasure of partnering with Union Bank to honor extraordinary individuals in our community," said Tom Karlo, KPBS general manager. "KPBS is thrilled to pay tribute to each honoree as they continue to inspire us with their achievements and leadership. We are also proud to profile their stories as part of our programming."
The 2013 honorees for Women History Month are:
Ms. Candace Bahr and Ms. Ginita Wall are the co-founders of the Women's Institute for Financial Education (WIFE.org) a non-profit volunteer organization dedicated to providing financial education to women in their quest for financial independence. More than 8,000 people in San Diego have attended the Second SaturdaySM Divorce Workshop, which provides information from attorneys, mediators and counselors and has been replicated in 42 communities nationwide. WIFE.org was recently named one of the top 500 financial sites by "Online Investor," capturing the interest of women and those seeking financial advice and information for women. Aside from their work with WIFE.org, Ms. Bahr and Ms. Wall are also professional wealth managers. They are both nationally recognized in their professions.
Ms. Amina Sheik Mohamed was born and raised in Somalia and came to the United States as a refugee. She is the first in her family to graduate from college and earn a master's degree in public health from San Diego State University. Ms. Sheik Mohamed is a regional manager for the Network for a Healthy California, an African American campaign in the San Diego and Imperial Counties. She also works with the UC San Diego Division of Child Development and Community Health and volunteers for the United Women of East Africa Support Team (UWEAST), an organization with 300 plus East-African Women members. Her passion extends beyond Southern California — while visiting Ethiopia and Somaliland, she presented a workshop to women living in poverty to help promote hope for living a healthier life.
Throughout the respective commemorative heritage months, KPBS will air video profiles of the winners, highlighting how they made a difference in their community. To view the videos and to nominate future heroes, click here. For more information on the Local Heroes program, please also visit Union Bank Local Heroes.
This article originally appeared on Scoops San Diego