Spring Clean Your Way to Health and Wealth
Six Steps to Blossoming During Divorce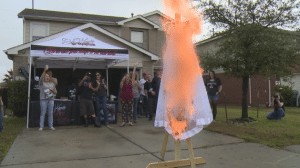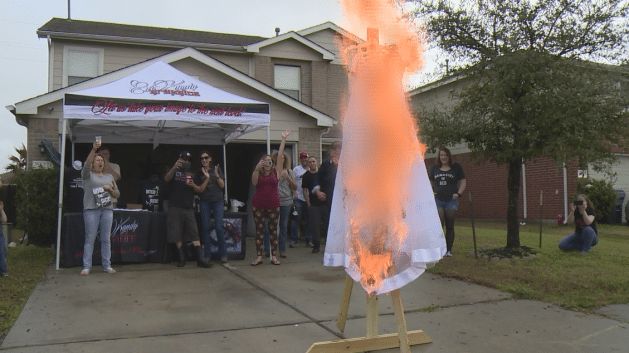 Brianna Barksdale, in Spring, Texas took spring cleaning to a whole new level:  she held a post-divorce garage sale, sold everything she owned, and took a huge emotional leap forward:  Brianna publicly torched her wedding dress and captured it on video in an empowering moment of letting go. (1)
At Second Saturday Divorce Workshops, we believe that while your marriage may have gone up in flames, your life is truly beginning – spring cleaning is a great place to start.    Here are six spring cleaning tips from Second Saturday and WIFE.org founders Candace Bahr and Ginita Wall to guide you towards health and wealth:
1. Clean out your closet – and, earn some cash.  No need to throw out old clothes – find a local clothing consignment shop and drop off whatever you have that is in decent shape.  While this may not feed your family, it's a great way to pull in some extra cash – and, justify the purchase of a few things for the "new you."
2. Simplify:   Divorce is a great opportunity to explore what you really "need" to live comfortably – and, how you'd like to set up your new life. If you are on good terms with your ex, consider offering him anything you don't want. If the thought of calling him makes you ill, take Brianna's cue and have a post-divorce garage sale – sell whatever is left on Craigslist, Amazon, Facebook, or on local selling apps.  Then, use the profits to purchase new décor. Or, box everything up and haul it to a local charity like Goodwill or the Salvation Army (some locations will pick up from your home). Your old life can have a second life and even create new, better memories for someone else.
3. Clean Out Your Emotional Closet: Your home isn't the only place where unwanted junk is piling up. You may have survived your divorce, but emotions like betrayal, anger, fear, and rejection could still be holding you back – spring is the perfect time to plant the seeds that grow into your next chapter.
Dr. Cynthia Thaik, cardiologist and author of Your Vibrant Heart, wrote, "Feelings of rage and hatred build up in the mind, body and soul, affecting the body's organs and natural processes and breeding even more negative emotions." In an article for the Huffington Post, she wrote out a prescription for cleaning out your emotional closet in six steps:
Acknowledge your anger.
Realize why you are angry or feeling hateful.
Step back for a moment.
Deal with the issue.
Talk to people about what's on your mind.
Let go of unhealthy thought patterns.
According to Cynthia, "Anger comes from within, and it can be just as easy to eliminate anger as to suppress it or hold on to it. In fact, sometimes it is easier to just let something go than to carry on being upset."  While this seems easier said than done, spring is a perfect time to find new, healthy ways of letting go.
4. Clean Out Your Financial Expectations: A divorce can set you free in many ways, but it will change your financial circumstances. Spring is a perfect time to clean out your old financial assumptions and start working off your new financial realities. You may need to curtail your spending, (see our article archive on budgeting and planning) or possibly even sell your home.
These changes are not losses, they pave the way for new beginnings. To quote gown-burning Brianna, "Divorce is expensive because it's worth it. I'd rather be eating single Ramen than married Filet Mignon."
5. Nurture in Nature:  We have a genetic pre-disposition to connect with nature because it truly soothes the soul. This spring, take the time to feel the sunshine on your face, listen to the birds chirp and smell all the new and beautiful growth.
6. Find a Second Saturday Workshop near you:  For legal, financial and emotional support, there is nothing like a community of volunteer professionals to support and guide you towards health and wealth as you begin this new season of your life.
To find a Second Saturday Divorce Workshop in your area, click here.
About Second Saturday and WIFE.org:
Second Saturday: What Everyone Needs to Know About Divorce is a nationally renowned workshop that has been replicated in over 100 locations across the country. In San Diego alone, over 10,000 people have gone through the program, and it has raised more than $300,000 for various charities.
Second Saturday is offered through WIFE.org, the nation's longest-running non-profit devoted to female financial literacy.  It was founded in 1988 by Candace Bahr and Ginita Wall, who are as dedicated to their cause today as they were when they first began.  In 2013, they were honored as KPBS Heroes as part of National Women's History Month for their WIFE.org and Second Saturday efforts.
With a career spanning over three decades, Bahr is a nationally known advocate for women's financial independence, and was named by Investment News as "Twenty Women to Watch." Wallis a nationally recognized expert and columnist on the subject of women and money.  Her credentials include CPA, CFP®, and CDFA®. She has authored eight books on personal finance and was named one of the 250 top financial advisors in the country by Worth Magazine eight years in a row.
Bahr and Wall have been speaking nationally on behalf of their non-profit since it was founded, offering workshops and making media appearances on shows such as NBC Nightly News, MSNBC, CBS This Morning, CNNfn, PBS and National Public Radio and they travel the country speaking to women's conferences organized by State Treasurer offices. For more information, visit www.WIFE.org and www.SecondSaturday.com.
1.     http://www.khou.com/article/news/local/woman-celebrates-h...
2.     https://www.huffingtonpost.com/dr-cynthia-thaik/emotional...
This was Featured in: