Terrified of Untying the Knot? Knowing Who to Trust for Critical, Non-Biased Information is Key
Second Saturday non-profit divorce workshop leaders vetted for integrity, expertise and history of community service
SAN DIEGO - April 19, 2018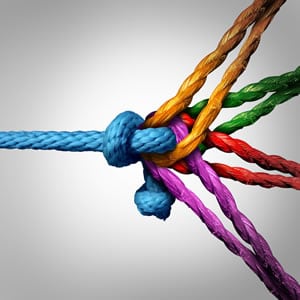 When Eleanor S. left her husband of fourteen years, she never could have imagined she would rack up $50,000 of legal fees in less than six months – especially when she "learned" that her family had more debt than assets.
And, while Susan R. had more than enough to pay top-notch divorce attorneys, she quickly discovered that there were plenty of them out there who were happy to drag out her divorce – and continue being paid.  There were other big questions looming: after two decades of her husband handling the finances, how would she ever know who to trust with her assets as a single mom?
Attorneys and financial services professionals are among the least trusted experts across all industries.  According to a recent Gallup poll, only 18% of the population believes that attorneys have high ethical standards.  And, as recently as January 2018, a CNBC article stated that "Financial services is the least trusted industry in consumers' eyes." (2).  For Jon Stein, the largest independent online financial advisor in the U.S. and founder and CEO of Betterment, "Only when financial leaders step up to serve — not exploit — their customers will we begin to see consumer trust restored in the financial services industry again." (3)
Meanwhile, while everyone isn't Bernie Madoff, what is a divorcing individual to do, especially when the emotional turmoil of divorce makes choosing the right professionals even more daunting?   Divorcing couples are forced to make the biggest decisions of their life at their most vulnerable time, which can be a recipe for lifelong disaster.  Whether you have significant assets or might be starting over, knowing which professionals to trust is key: one way to vet them has been working for nearly three decades.
Since 1989, Second Saturday non-profit divorce workshops have helped nearly 15,000 individuals navigate the rocky waters of divorce, offering essential information, support and hope through the guidance of volunteer financial, legal and mental health professionals who are dedicated to helping others, regardless of their financial situations.    It was created by nationally renowned female financial literacy advocates Candace Bahr and Ginita Wall, as part of their non-profit WIFE.org, the Women's Institute for Financial Education, the nation's longest-running non-profit devoted to female financial literacy.
The workshops rolled out nationally in 2013, with angel funding from a remarkable divorced woman who wanted to ensure that fewer people suffered as she had through the process. Now, with 120 workshops running every month across the country, the Second Saturday legacy continues to empower divorcing individuals everywhere – with the same integrity and passion with which it was started, beginning with the workshop leader vetting process.
According to Bahr, "When we began this rollout, Ginita and I had to make 100% sure that leaders representing us met high professional standards, were ethical, and most of all came from the right place when it comes to helping others.  Our leaders are strictly vetted.  We've taken intentional steps to ensure that every workshop is run by a professional who we would personally trust, and have turned many individuals away.   One of the things we look for is a strong community service/volunteer background.  For us, this shows that someone is 'giving back' for the right reasons – it also ensures they will create successful workshops."
For Ginita, "Many of our leaders have experienced divorce first-hand, and are committed to helping others get through it.  At Second Saturday, we've had attendees with 5 million dollars in the bank sitting next to someone who slept in her car the night before, and we are proud to say that our leaders offer everyone the same support."
Second Saturday leaders are involved in many community service causes, including homelessness, mental health, refugees, immigration rights, natural disasters, families in crisis and battered women, to name a few.  Attorney leaders typically have a rich history of doing pro-bono work.
When it comes to divorce and trusting the right professionals, Second Saturday Divorce Workshops make it easier to get through the process in a peaceful and respectful manner.
To find a Second Saturday Divorce Workshop in your area, visit www.SecondSaturday.com.
If you are interested in finding out if you qualify to become a Second Saturday Divorce workshop leader, click here.
About Second Saturday and WIFE.org:
Second Saturday: What Everyone Needs to Know About Divorce is a nationally renowned workshop that has been replicated in 120 locations across the country. In San Diego alone, over 10,000 people have gone through the program, and it has raised more than $300,000 for various charities.
Second Saturday is offered through WIFE.org, the nation's longest-running non-profit devoted to female financial literacy.  WIFE was founded in 1988 by Candace Bahr and Ginita Wall, who are as dedicated to their cause today as they were when they first began.  In 2013, they were honored as KPBS Heroes as part of National Women's History Month for their WIFE.org and Second Saturday efforts.
With a career spanning over three decades, Bahr is a nationally known advocate for women's financial independence, and was named by Investment News as "Twenty Women to Watch." Wallis a nationally recognized expert and columnist on the subject of women and money.  Her credentials include CPA, CFP®, and CDFA®. She has authored eight books on personal finance and was named one of the 250 top financial advisors in the country by Worth Magazine eight years in a row.
Bahr and Wall have been speaking nationally on behalf of their non-profit since it was founded, offering workshops and making media appearances on shows such as NBC Nightly News, MSNBC, CBS This Morning, CNNfn, PBS and National Public Radio and they travel the country speaking to women's conferences organized by State Treasurer offices. For more information, visit www.WIFE.org and www.SecondSaturday.com.
1.    https://www.forbes.com/sites/niallmccarthy/2018/01/04/americas-most-and-least-trusted-professions-infographic/#4fd65e3765b5
2.    https://www.cnbc.com/2018/01/12/financial-services-industry-needs-to-regain-consumer-trust.html
3.    https://www.cnbc.com/2018/01/12/financial-services-industry-needs-to-regain-consumer-trust.html
Recently Featured in: